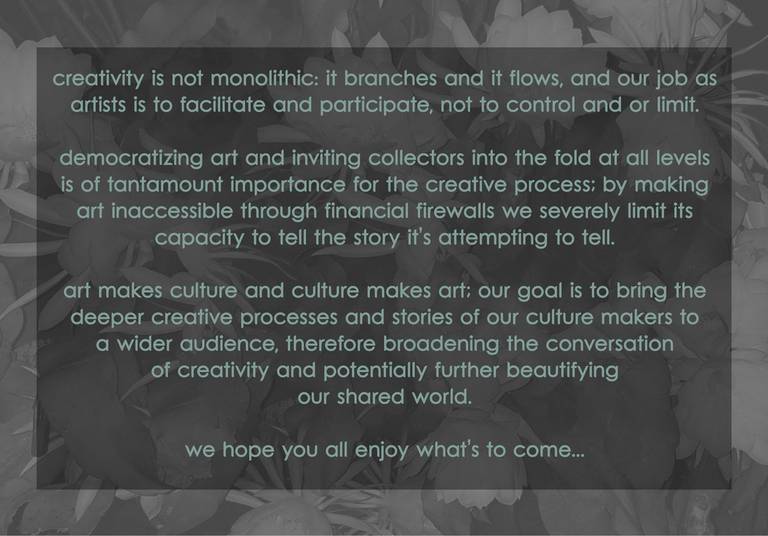 about moonlight arts collective
moonlight arts collective is a continually evolving community of like minded artists who "moonlight" to create artwork in all forms. an expedition in collaboration showcasing specially curated original artwork exhibitions, unique artist editions, artist talks, events, interviews, thoughtfully executed NFTs and digital editions, custom home goods and much more...
request an invitation to join moonlight arts collective by entering your email below. members receive exclusive early access to new releases, evolutionary NFT projects, original artwork and much more...




moonlight arts collective's vol. I launches this March featuring Brandon Boyd, Heart Evangelista, Melissa Villaseñor, Brian Bowen Smith, Sarah Hay, Niagara, Jose Pasillas, The Snow Lodge Aspen, Proof of Art Studios, and much more to be announced in the coming weeks...
vol. II release date coming soon...
 - 🌕 🌖 🌗 🌘 🌑 🌒 🌓 🌔 🌕 - 
moonlight arts collective founders
brandon boyd - info@moonlightartscollective.com
jen disisto - media@moonlightartscollective.com
pietro truba - projects@moonlightartscollective.com
 - 🌕 🌖 🌗 🌘 🌑 🌒 🌓 🌔 🌕 -